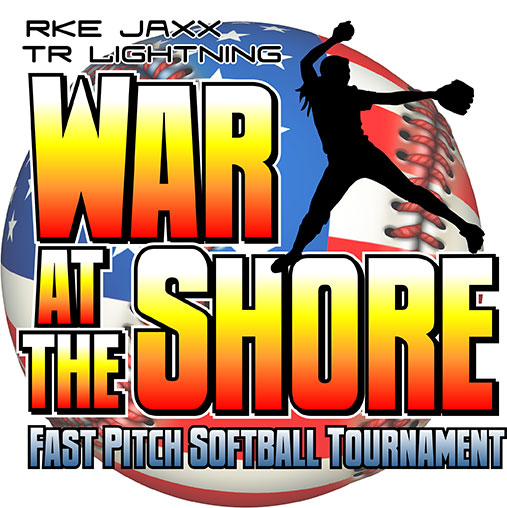 The 2020 – 18th Annual "War at the Shore Fast Pitch Softball Tournament" (10U,12U, 14U, and 16U/18U) will again be hosted by the Toms River Lightning and  RKE JAXX Softball Clubs.
The 10U, 12U & 14U Divisions will be held June 26,27 & 28  – 2020 at beautiful Toms River Lightning N. Bay Ave Complex. All 10U, 12U & 14U  will have a Four Game Guarantee(weather permitting) with pool play being held on Saturday (June 27th). All Teams will advance to Sunday Play Single Elimination. (Friday Night June 26 is Optional for Local Teams that would like to play 1 Pool Game)

The 16U/18U Division will be held June 13 & 14 – 2020 in both Toms River & Wall Township and will have a Four Game Guarantee (weather permitting). All Teams will play a 3 Pool Games on Saturday. All Teams will advance to Sunday Play Single Elimination.

Early Registrations will be able to request Early or Late Start Times on Friday. Pool play will be completed Saturday and single-elimination bracket play will be played on Sunday.
Only the first 16 Teams will be guaranteed a spot in each age group.

The 16U/18U Teams will be playing Showcase Rules on Saturday.

The War at the Shore usually Sells Out Early so do not wait too long to Register. This year's field will be limited . There will be NO REFUNDS once your Fee is submitted. We expect this tournament to also fill up quickly. Follow the menu on the bottom to learn about our application and a hotel list.
The Tournament will be USA Softball- NJ Sanctioned and each team will be required to provide Proof of Insurance.

Here is a link to The Monmouth County Tourism Website for more Hotels & things to do during your stay at the Jersey Shore: WWW.visitmonmouth.com/tourism
Each Team will be Responsible for a $30 Umpire Fee(1 man) or a $50 Umpire Fee (2 man) that must be Paid to the Umpire before the start of each Game.
Tournament will pay Umpires in Sunday's Semi Final & Finals in "A" Flights only"
2020 Entry Fee $595 for All Teams –
Please make out your check to RKE JAXX.