UPDATED July 6, 2020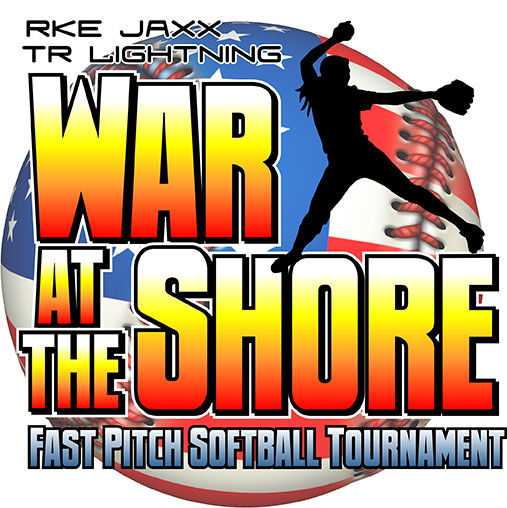 18th ANNUAL WAR AT THE SHORE
16/18U August 14 & 16

      10/12/14U August 14-16

Please follow us War at the Shore 16U & 18U  Text Notification Line
Dial this Number: 810-10 then Text this message: @war18
JAXX/ Lightning
Tournament Covid-19 Guidelines
If anyone feels they cannot or will not meet these guidelines, then do not participate in the event until such time as you and your team are able to do so or until after the recommendations and requirements are removed.
If someone contracts the virus as a result of participation in any fashion,
USA Softball of New Jersey, RKE JAXX & Toms River Lightning
softball organizations & their officers, USA & or Tournament Softball Umpires, or any facility owner are not to be held liable.
Teams must sign the Covid 19 waiver form before being allowed to play.  All players, coaches and umpires are encouraged to observe social distancing guidelines throughout the tournament
Parents and spectators should remain in their cars during warm-ups and wait until 15 minutes before game time to go to spectator area.
Parents and spectators must view games from behind the outfield fence (foul pole to foul pole) and along the 1st & 3rd baselines, at least 10 feet past the bleachers.
Non-family household members must remain 6' apart from other spectators
No sharing of canopies by members of different families/households.
Masks will need to be worn in common areas, snack stand area and wherever 6' social distancing is not able to be maintained.
BLEACHERS ARE CLOSED TO ALL SPECTATORS,  AND WILL BE USED BY PLAYERS & COACHES ONLY!
Team dugouts/player area will be extended to also include the bleachers on your side of the field.
No more than 6 people are allowed in the actual dugout at any time (3 coaches / 3 players). Those who are not in the dugout must use the bleachers
Umpires will not carry backup balls!  Each team, when on DEFENSE, will supply game balls to THEIR team.  All foul balls should be returned to the DEFENSIVE Team dugout
Pre-game meetings must maintain social distancing. One coach from each team only standing apart on far batter's box line + umpires. No contact or shaking of hands.
No players allowed at the pre-game meeting!
When not on the field, all players and coaches should wear a face covering/mask, but not mandatory
No team/group meetings or "high fives" before or after half innings. (includes no hugging, fist-bumps, etc)
 No post-game handshakes between teams.  MVP Medal presentation may be done, but each team will use their own medals for their own player who will be selected by the opposing team.  A team cheer or tipping a of the cap is a great alternative to show respect to your opponent
Please make sure teams clean up trash in all player areas prior to vacating the area.
All team meetings should be held in common area and with players maintaining social distancing. Teams should leave complex immediately after games are completed.
No sunflower seeds are permitted in the complex. No gum chewing or food inside the dugouts.  Each player should  have their own drink and NO Sharing is allowed
Please refrain from spitting; use only YOUR own equipment.  Please place all garbage in the trash cans
Each team is responsible to ensure all players & coaches temperature is below 100 degrees.  Tournament will have forehead thermometers on site and may, at any point, take a temperature of any player or coach
*Bathrooms—no more than 3 people at a time.  Wait in line, 6 ft apart outside the bathrooms.  As one person exits the bathroom, one person may enter
*There will be NO TOLERANCE for any arguing with umpires!  If you have a question, call time, and ask it like a lady or gentleman.  Any coach or fan who is "out of hand" will be ejected and done for the weekend
TEAM CHECK-IN AT TOURNAMENT
Part of the requirements the State of NJ has put into place requires the asking of a health questionnaire and verifying temperatures of all players, coaches, umpires, volunteers and staff.  In addition, we are going to require the
signing of the Covid-19 waiver form
The process will be as follows until further notice:
Coaches will be emailed a Covid-19 Release Form that will need to be completed & signed by each parent/guardian prior to arrival and brought with them to the complex.  We will need Player Name, Parent/Guardian Name, Age, Cell Phone, Email address, Emergency Contact & Phone number
The Head Coach will need to provide the completed signed forms, a copy of their Team Certificate of Insurance form and their Covid-19 player & coaches waivers
The person checking-in your team will ask you to confirm that all of your players and coaches temperatures are 99.5 degrees or less and to the best of your knowledge, nobody is displaying any symptoms of the Covid-19 virus
Each team will be given game balls at check-in.  Do not unwrap until you arrive at your field.  Backup balls are to be provided by each team if you run out!  You will use your own game balls when on defense
Each team should have their own hand sanitizer and a towel for their team and to sanitize game balls & team equipment throughout the game, as needed.
Dear Manager,
          Welcome to the 2020 War at the Shore  In this packet, you should find the following information:
Directions
Tournament Rules
Pre-Registration info
Friday and Saturday schedules and the Sunday seeding brackets can be found at:
10/12/14U Team List & Schedule
Be sure to recheck your team's schedule as late as Thursday August 14 to make sure nothing has changed (i.e., team dropping out, etc.).  It may mean your game may be moved to a different time or field.
If you have any questions please call :
Wall Twp.Tournament Director;
Greg Kapalko
732-881-2011
16U & 18U

Nora Bosmans – 732-403-6918 – All Scores
TOMS RIVER
N. Bay Ave Complex
1643 North Bay Ave.
Toms River, NJ 08753
YMCA Softball Complex
1088 West Whitty Road
Toms River NJ 08755
Donovan Catholic Softball Complex
1380 Whitty Road
Toms River, NJ 08753
Toms River  Site Directors 16U and 18U
North Bay Complex – Nora Bosmans : 732-403-6918
Wall Twp.
North Wall Little League Complex
2600 Belmar Blvd.
Wall, NJ 07719
Wall Twp. Site Director 16U
John Fardella. 732-539-9304
10U – 12U- 14U Toms River

Please follow us War at the Shore 

10U, 12U & 14U

Text Notification Line
Dial this Number: 810-10 then Text this message: @war1014
TOMS RIVER
N. Bay Ave Complex
1643 North Bay Ave.
Toms River, NJ 08753
YMCA Softball Complex
1088 West Whitty Road
Toms River NJ 08755
Donovan Catholic Softball Complex
1380 Whitty Road
Toms River, NJ 08753
Toms River  Site Director: Matt Purpuro   732-581-5776
Matt Purpuro – 732-581-5776 – Scores
Wall Twp.
North Wall Little League Complex
2600 Belmar Blvd.
Wall, NJ 07719
Rash Fields 1 & 2
2008 Highway 71
West Belmar, NJ 07719
  We are looking forward to a wonderful weekend of softball.
A LIMITED AMOUNT OF WAR AT THE SHORE WEAR T-SHIRTS WILL BE AVAILABLE AT:
Bay Ave & YMCA Complex's in Toms River

SHORT SLEEVE: $20.00

Registration on Your Opening Day :

16/18 Friday August 14                                                                                       10/12/14U Friday August 14

Each team must drop off a copy of your Roster, USA Softball Registration and Proof of your Insurance.  You must bring this information and present it to us at the Registration Table located:
Toms River
Under the Tents at N. Bay Ave & YMCA Complex's

 EITHER PRIOR TO ARRIVAL OR AT REGISTRATION, PLEASE PROVIDE US WITH AN ACTIVE CELL PHONE NUMBER SO WE CAN CONTACT YOU IN THE EVENT OF ANY CHANGES DUE TO WEATHER.
KEY PHONE NUMBERS:
Greg Kapalko Tournament Coordinator: (cell) 732-881-2011
Matt Purpuro Toms River Tournament Director (cell) 732-581-5776
Nora Bosmans Tournament Director: (cell) 732-403-6918
The 10U, 12U & 14U Official Seedings will be posted on
STRUCTURE

16U-18U
 Ump Fee : Two Man System $50 per Team Per Game.
One Man System $30 per Team Per Game.

Tournament will pay Umpires in Sunday's Championship Semi Final & Final Brackets.
5 game guarantee –   2 Games each on Friday & Saturday ( NO Exceptions)
On Sunday : Single Elimination

Note: 16U & 18U are considered Advanced USA Softball Play – Metal Spikes are allowed.

NOTE: 16U & 18U Teams may be mixed together in Saturday Pool Play – but will be separated for Championship Play on Sunday
16U &18U Divisions will play Showcase Rules in POOL PLAY ONLY-  Teams may use unlimited defensive substitutions during Pool Play on Fri & Sat ONLY and bat All Players. This means that you may put the All your girls that you want to hit in your lineup, then put the girls in the field that you want to play defense. Defensive players may be changed at any time. Any changes made to the batting order must be reported to the Umpire & opposing team. Umpires do not need to know the Defensive changes, nor the re-entries unless they are going back in the batting order. However if you are batting all your Players and an Injury occurs – that spot in the Batting Order will be an out.

SEEDING FOR 16/18 SUNDAY:
Sunday Brackets will be view-able at: https://www.itournamentbrackets.com/index.aspx
10U 12U 14U



Ump Fee : One Man – $30 per team per game/ Two Men $50 per team per game
Tournament will pay Umpires in Sunday's 'A' Championship Semi Final & Final Brackets.
Teams will be responsible for all Ump Fees in Sunday – 'B' Brackets.
 4 game guarantee –    3 Pool Games  played on Friday Saturday, and 1 game on Sunday
(Weather Permitting)
On Sunday Teams will be placed in Single Elimination Brackets –

In Age Groups of 16 Teams or more,  Teams will be seeded 1-8 For Championship "A" Bracket and Bottom 8 to "B" Bracket (or whatever amount of teams we have in each age group) for "B" Bracket –
Tournament reserves the right to add Teams to either Bracket when there are Pools with an Odd number of Teams.
SEEDING FOR SUNDAY:
1. Total Points (Win = 3 pts    Tie = 1 pt   Loss = 0 pts)
2. Head to Head (if only 2 teams are tied)
3. Fewest Runs Against
4. Total Runs Scored
5. Blind Draw
If inclement weather makes the number of games played by each team in the pool unequal, the Won-Lost record will be replaced by Winning Percentage and Fewest Runs Allowed and Most Runs Scored will be changed to Average Runs Allowed/Average Runs Scored Per Game.
Even though Fields are assigned for Sunday Bracket Play – the Tournament Director has the authority to move some brackets around .
GAMES
Teams may consist of a maximum of 15 players.
Guest Players are permitted as long as they are Age Eligible
Teams must present a roster of all team members, listing names, age, and uniform number to the tournament director.
Teams must have proof of age available for each player.
Insurance coverage is the responsibility of each team and must be submitted prior to playing the first game.
NO SMOKING is permitted in the playing field areas.
Game Length:

Pool Play

– No inning will start after 1 hour and 20 minutes or seven innings (6 innings in 10u) (whichever is reached first),  All Innings that are started WILL BE FINISHED. No Extra Inning Games in Pool Play, unless time limit has not been reached. In Pool Play, Ties will count.

     Sunday in Elimination Play – No inning will start after 1 hour and 20 minutes, but if the game is tied at that time, we will play the ITB in whatever inning we are in.
Only the Championship Games on Sunday, all games will be full seven Innings.
10U Age Group (6) Innings  . Run Rules will still apply in all age groups.

Non Metal Cleats must be used in 10U & 12U Play – Metal Cleats are permitted in 14U Play
All decisions to change time limits are the sole responsibility of the Tournament Director.
Stalling tactics will not be permitted and will be called at the Umpire's or a Tournament Director's discretion.
     If a team is charged with stalling in Pool or Elimination Play, the Penalty may be to either Finish the Inning or Revert to the score of the to the Previous Inning.

All teams are required to be flexible in the case of inclement weather. The Tournament Director will make all decisions regarding allotted game time.
In the event that a Pool Game is stopped by Rain or Lightning – Clock will continue to run – no matter whet inning the game is in – if the game does not Re-start the Score at the Time will be the FINAL OFFICIAL SCORE – Score does NOT Revert – Ties Count
In the event that a Sunday Elimination Game is stopped by Rain or Lightning – Clock will stop and re-start with at Least 30 Min. on the Clock – if it's a new inning – ITB will be in effect – and Game will be played till we have a Winner.

Home team in the Round Robin Games will be determined by a coin flip prior to the start of the game by the umpire. Choice of Home team to higher seed on Sunday.
Home team keeps the official scorebook.
All teams must present lineups to the umpire and opposing coach prior to the game.
The umpire has the official and final say on all scorebook disputes.
Softball for each game will be provided by the Tournament Director and given to the umpire. Teams will be responsible to supply back-up balls for each game.

No infield practice prior to any game. Warm up may be done on grass only.
Managers are expected to control themselves, their coaches, players, parents and spectators. Failure to do so may result in forfeiture of the game, ejection from the game, or ejection from multiple games of the tournament.
*  Refund Policy- Once your check is accepted there will be NO REFUND if your Team drops Out unless we can replace you.

    In the Event of The Tournament is completely Rained Out ( NO Games Played) Your Team will receive a $200 Refund. Once the Tournament Starts – NO REFUNDS –

 We recommend after each game, of the Winning Coach to Double Check the Umpire's scorecard after the game.

If the Umpire posts the score with the wrong team winning, that score will stand. It has happened !
It is the responsibility of the Winning Coach call the scores to:
Toms River TD – Nora Bosmans (732-403-6918) in 16/18U Division or

Toms River TD -Matt Purpuro (732-581-5776) in 10U -12U & 14U Divisions

 15 Minutes after your game ends.

  If you fail to do so then – whatever we have will stand!!!!!!!!!!

Awards:
16U & 18U
"A" Bracket Championship Teams will receive Team Plaque and 15 Champion Gaiters
"A" 2nd place Teams will receive a Team Plaque and 15 Finalist Gaiters

10U/12U/14U
"A" Bracket Championship Teams will receive Team Trophy and 15 Individual Trophy's or Gaiters
"A" 2nd place Teams will receive a Team Trophy and 15 Individual Trophy's or Gaiters

 "B" Bracket Championship Teams will receive Medals
                         

Umpires:
Pool Play: One or Two umpires
Early Elimination Rounds: One or Two umpires
Finals: Two umpires
Tournament reserves the right to change the number of umpires in any game.
Teams will pay the Umpires $30 per team if 1 Man – or $50 per Team 2 Man at the Coin Toss – up till the Championship Bracket Semi-Finals on Sunday

"A" Bracket

and Championship Games –
"B" Bracket Teams will pay Ump Fees in

ALL

Sunday "B" Bracket Games.

Tournament will pay all Ump Fees in Semi-Finals & Finals in all "A" Division Age Groups Sunday.
NO PROTESTS
Rules
Courtesy runners may be used for the pitcher and catcher at any time.
If a Team has no substitutes the Last Out may be used as Courtesy Runners.
THE MERCY RULE IS:
12 runs after three innings
10 runs after four innings
8 runs after five innings
PITCHING DISTANCE IS 40 FEET for 12U

PITCHING DISTANCE IS 43 FEET for 14U,16U &18U
Extra hitter (EH) and DP/Flex  may be used for a maximum of 10 hitters in the batting order on Sunday. The Only Exception will be if Both Teams agree at the Coin toss. All Listed Batters over 9 – will be listed as EH in the Batting order.

TOMS RIVER Police:
Toms River Police Dept—732-349-0150
TOMS RIVER Hospital:
Communtiy Medical Center
99 Rt. 37 West
Toms River, NJ 08755
732-557-8000